Click the video above to watch the preview!
Length: 1:14:17
Shot in HD
Kate Eden's research into female sexual fantasies leads her deep into the erotic imagination of women, a lush world of pleasure without consequences. Her subjects reveal a list of secret desires:  a threesome with two men, a magic room with a male slave who exists only to give pleasure, a full service massage complete with cunnilingus, and a dark exploration of submission and group sex.
Her research is fascinating, arousing and all-consuming. But will Kate's passion for her work lead her to lose herself – and her relationship?
Starring: Madison Missina, Ryan James, Kara Dasha, Devon, Vivienne L., Harley, Max, Marina Lee, Xavier, Rob Paulson, Jack, Steel, Aeryn Walker, Rex.
(This film includes four separate real-life couples!)
About The Film
The Fantasy Project was inspired by the work of Nancy Friday, whose groundbreaking 1973 book My Secret Garden revealed that women actually had sexual fantasies – and that they were diverse and incredibly hot. This film seeks to depict a range of straight female fantasies where the focus is always on the woman's pleasure – something that is still rare in porn. Cunnilingus and female orgasms are plentiful and the film breaks porn taboos by depicting a MMF bi encounter and a solo male masturbation scene in a "straight" film. The film also aims to invoke the surreal atmosphere of erotic imaginings.
The Fantasy Project features strong performances from an Australian and international cast. The scenes feature four different real-life couples. Several of the sex scenes were shot documentary-style, without major interruption, and all scenes were shot according to Indigo Lush's feminist ethos, including collaboration with performers and a desire for realistic, genuinely pleasurable sex. Every encounter in this film is bursting with chemistry and sensuality.
The film premiered at the Berlin Porn Film Festival 2014.
The MMF bi threesome scene featured in the Bring It! erotica showcase at Cinekink NY Film Festival 2015.
Nominated for a Feminist Porn Award 2015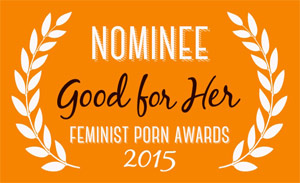 Some promo images
The sex scenes in this film include:
MMF bisexual sex, cunnilingus, double cunnilingus, fellatio, male masturbation, female masturbation, handjobs, footplay, erotic food, BDSM, power play, group sex, voyeurism, erotic massage, vibrators and dildos, girl-girl strapon sex, fantasy dream sequences, a bit of romance and boy-girl intercourse.
You'll also get director's commentary, cast info and screenshots.
After purchase you'll receive a link to the full video.
New release feature: US$15.95 US$12.95 for 7 days

Note: The Fantasy Project is also now available in the member's area of Bright Desire. Along with the film you also get access to every film Ms. Naughty has ever made (that's over 60 erotic, ethically made scenes!)
Click here to join