Here's some of the older exclusive updates from 2015 at Bright Desire. This page doesn't show the erotic fiction, columns or bonus videos and photos that were added. If you want to know what's been added recently, visit this page.
25 December 2015: Exclusive video: Mickey, Nichole and Livia Interview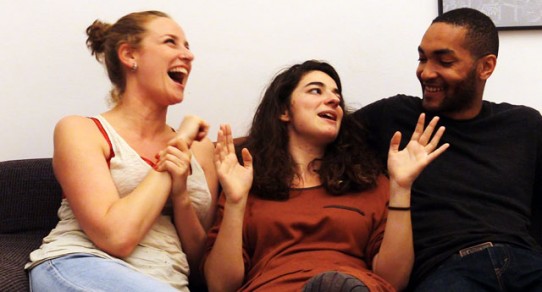 The stars of our amazing threesome discuss how they felt about the scene, how it was originally suggested and arranged and what they liked best about the whole thing. Livia and Nichole also reveal a few secrets about their experience.
18 December 2015: Exclusive video: The Birthday Wish – Part 3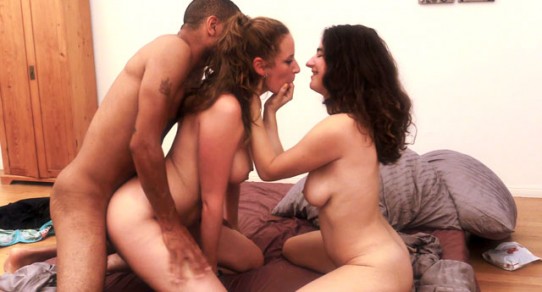 In the final part of this epic threesome scene, Livia invites Mickey to fuck her which he does in missionary and she comes. Then it's Nichole's turn to enjoy Mickey's cock and they fuck in an upright doggy style and then she gets on top. More orgasms. After a short break, Mickey slides into Livia one last time and comes inside her.
Make sure you stay for Livia's great line during the afterglow.
11 December 2015: Exclusive video: The Birthday Wish – Part 2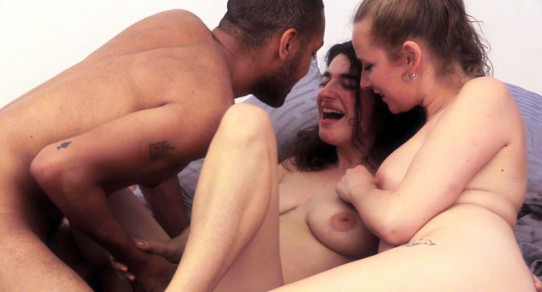 In part 2 of this amazing threesome scene, Mickey turns his attentions to Livia, having already given Nichole an orgasm. He rubs her clit until she comes and then goes down on her as Nichole kisses and watches her. Then it's Mickey's turn for some amazing oral sex from both women. And then, before you know it, Nichole is having another orgasm via Mickey's hand.
4 December 2015: Exclusive video: The Birthday Wish – Part 1

Mickey and Nichole throw a birthday party for their friend Livia and enjoy plenty of laughs around the table. They sing her "Happy Birthday" and, blowing out the candles, she makes a wish. Mickey and Nicole then set out to make her dreams come true and a beautiful threesome ensues.
23November 2015: Bright Desire has received nominations for two major adult industry awards.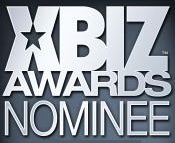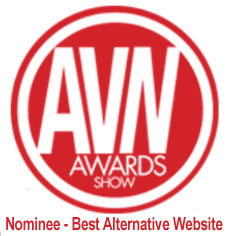 Bright Desire has been nominated for Best Adult Site – For Women at the 2016 XBiz Awards.
It has also been nominated for Best Alternative Website at the 2016 AVN Awards.
We're honoured to have our work recognized by the mainstream industry!
20 November 2015: Documentary video: The Berlin Porn Film Festival 2015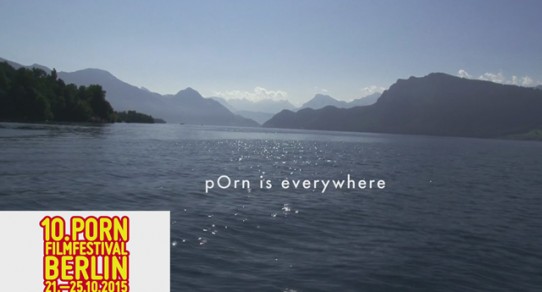 A mini documentary about the 10th annual Berlin Porn Film Festival, held from the 21st to the 25th October 2015. Features interviews, film snippets and a special section on the 40th anniversary screening of the Rocky Horror Picture Show.
13 November 2015: Exclusive video: Pyro Interview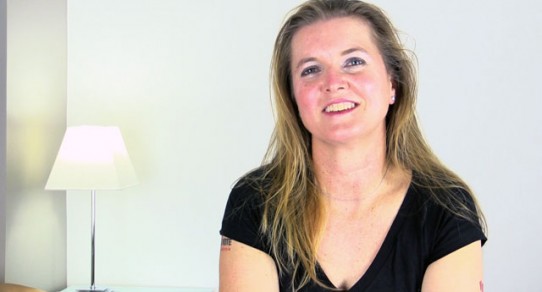 Pyro talks about her swinging lifestyle and how she came to explore her sexuality after divorce. She also discusses getting older, body and confidence issues, feminism and why she's happy to do nude modelling and make porn.
11 November 2015: Erotic photography: White Priestess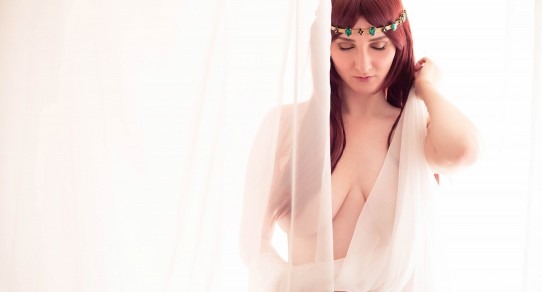 Australian adult performer Aeryn Walker of NaughtyNerdy.com kindly allowed us to feature a set of her amazing erotic photos. "White Priestess" is haunting and very very sexy.
6 November 2015: Exclusive Video: Exhibition

Pyro visits a sexuality and lifestyle exhibition, enjoying the live shows, laughing at some of the bizarre exhibits and doing a bit of personal shopping. She heads back to her hotel room to enjoy some of the sexy things she's bought, including fishnet stockings, a fun massage glove and a beautiful silicon vibrator.
Bright Desire is pleased to offer another example of diverse, positive porn featuring an older woman embracing her sexuality!
29 October 2015: Blog post: Back from Berlin + Previews of Upcoming Shoots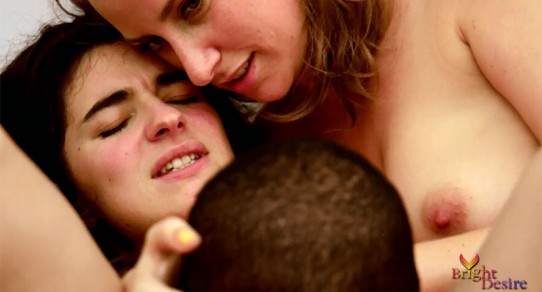 Here's a sneak peak of the amazing threesome starring Mickey Mod, Livia and Nichole that we shot in Berlin. Coming soon!
16 October 2015: Exclusive Video: Ryan and Penny Interview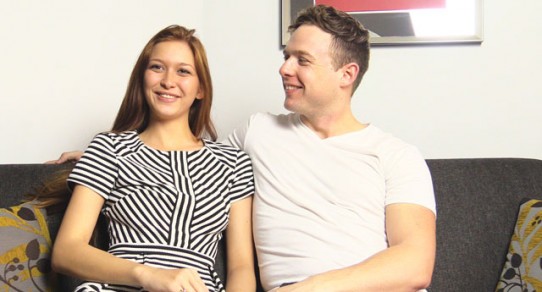 9 October 2015: Exclusive Video: Face To Face (Part 2 + Full Scene)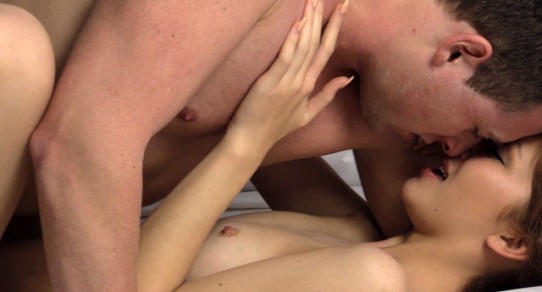 In the second part of this scene, Penny is wet and happy after her cunnilingus orgasm and she returns the favour, going down on Ryan. Then they fuck in several different positions. Ryan comes inside Penny and they enjoy some post-sex afterglow and laughter.
2 October 2015: Exclusive Video: Face To Face (Part 1)

Friends-with-benefits Penelope and Ryan get their silly on and flirt via their phones before meeting up for some hot sex. In the first part of this scene, Ryan goes down on Penny and gives an extended session of cunnilingus until he goes red in the face and she comes.
18 September 2015: Exclusive video: Hannah Interview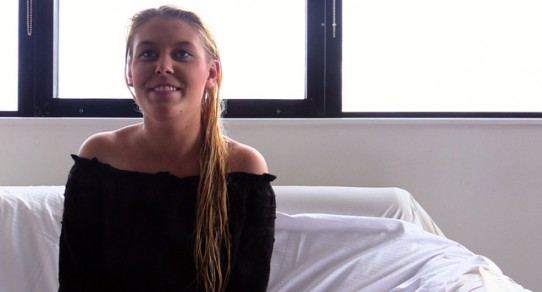 11 September 2015: Exclusive extended scene: Hannah Solo


Hannah reads an edition of Best Women's Erotica and is seduced by the story, the sexy imagery turning her on. Still thinking of the erotic scenario, she strips, sensually touches herself and comes with the help of her favourite vibrator.
10 September 2015: Column + video: Farewell Candida Royalle
4 September 2015: Exclusive erotic film: Lather

Beautiful nude model Hannah indulges in a hot shower, enjoying the sensuality of lathering up her body. She arouses herself and brings herself to orgasm.
This is a relatively simple erotic film celebrating female pleasure via the gratuitous use of slow motion and soap.
21 August 2015: Exclusive video: Morgana Interview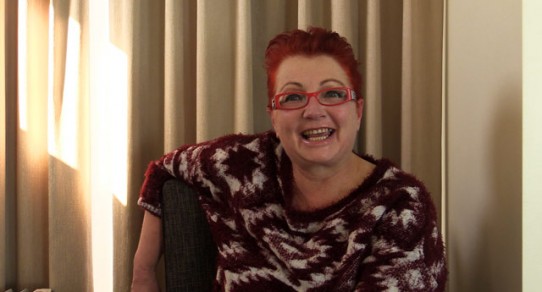 Morgana Muses talks about her past, her interest in porn and how she felt doing her first solo scene for another company. She also discusses why she enjoys knife play during sex.
14 August 2015: Exclusive video: Scarlet Woman – Alternative Voiceover Version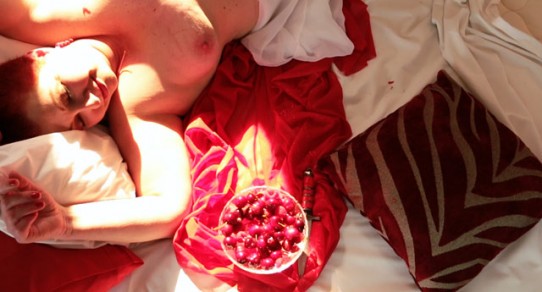 7 August 2015: Exclusive erotic film: Scarlet Woman

Like a chrysalis, Morgana Muses emerges into a world of sensuality, sexual discovery and self-love. She revels in her body with costumes and veils before giving herself pleasure via melted wax, a knife, a paddle, a stiletto and her favourite vibrator.
Scarlet Woman is about celebrating and magnifying the bold, unstoppable sensuality and self-love that Morgana is embodying in her own life. It's a proud statement of autonomy and and monument to the liberating power of pleasure. It's also a great big middle finger to rigid beauty standards and judgmental ideas of how older women "should" behave.
24 July 2015: Rob and Amity Interview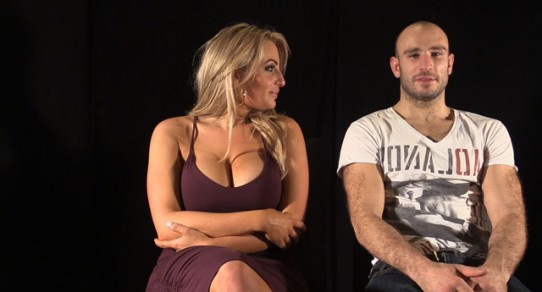 17 July 2015: Exclusive video: Hand Jobs – Alternative Extended Version

In this alternative and extended edition of "Hand Jobs", Rob and Amity engage in reciprocal oral sex – with a lot of fingers and hand work – before they bring each other to orgasm with their hands.
10 July 2015: Exclusive short film: Hand Jobs
Writing. Doing The dishes. Turning a key. Touching. Feeling. And fucking.
Our hands help us through so many everyday chores and yet they're also a vital part of our sexuality. The mundane mixes with the sensual in this short film as two people meet, touch and connect with their eyes, lips and – most importantly – their hands.
Hand Jobs is a short film that explores the way we use our hands to sexually connect with others- and to bring pleasure. Pornography is so often obsessed with penetration. This film sets out to depict a heterosexual encounter that doesn't rely on penis-in-vagina sex. The film creates a striking visual landscape of flesh and hands and invokes the growing intensity created by mutual masturbation.
19 June 2015: Exclusive video: Livia Vye Interview

Livia talks about her decision to perform in porn for the very first time.
12 June 2015: Exclusive video: Livia Solo – Extended Scene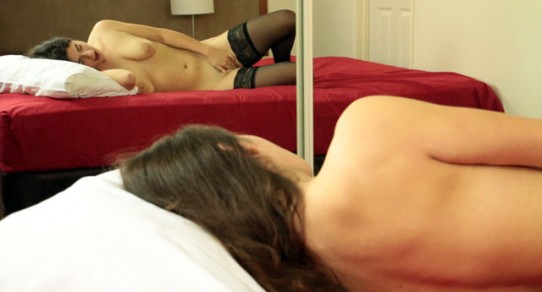 This is an alternate, extended version of the scene we shot for Self/ies. Here, the "documentary style" introduction has been replaced with a fantasy voiceover and there's a lot more footage of Livia masturbating to orgasm.
5 June 2015: Exclusive video: Self/ies
Until very recently, Livia Vye had never taken a nude photo of herself. In this, her first erotic film, she confronts the taboos that have grown up around explicit imagery by taking photos of undressing herself in front of a mirror. The experience is one of defiance, self-love and narcissistic eroticism. Turned on and empowered by her own body, she masturbates to orgasm.
"Created in collaboration with performer Livia, Self/ies is a tribute to the power of self-produced erotic imagery. It also makes a strong statement about body image and learning to love yourself. I'm really proud of this film." – Ms. Naughty
22 May 2015: Exclusive video: Lucie and Lucas Interview
Lucas talks about being an acrobat and how he got into porn by demonstrating Lucie Bee's sex toy.
15 May 2015: Exclusive video: Lucie and Lucas – Bedsports (Part 2 + Full Movie)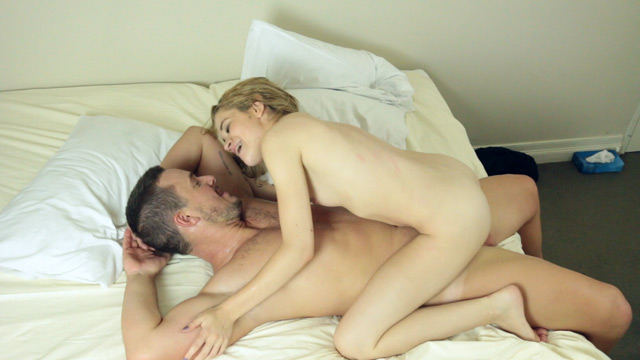 Lucie Bee and Lucas continue their enthusiastic and energetic bit of "fuckrobatics" in part 2. They enjoy penetration in a number of different positions and Lucie comes a few times before Lucas finally climaxes inside her.
8 May 2015: Exclusive video: Lucie and Lucas – Bedsports (Part 1)

Good friends Lucie Bee and Lucas get acrobatic in this fun and uninhibited scene full of laughter, sweat and pleasure. In part 1 they enjoy a lot of kissing, manual stimulation and some seriously hot oral sex – including a small blooper when Lucas "goes up" on Lucie.
24 April 2015: Exclusive video: Nichole and Jacob Behind The Scenes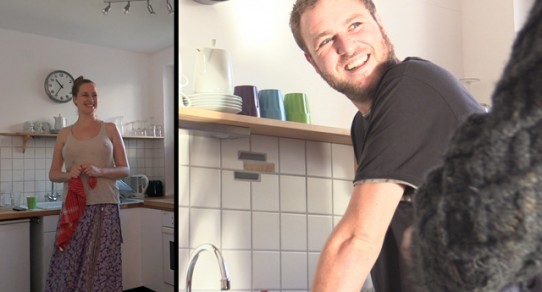 In Lazy Sunday, real life couple Nichole and Jacob get playful while doing the chores. The story required that Nichole flick Jacob with her tea towel and this resulted in playfulness and then sexy fun. What this behind-the-scenes video reveals is the intensive ten-minute training session Nichole undertook before we started shooting, in which Luke schools her in correct towel-flicking technique. It didn't take her long to advance from fairly mediocre floppy flicks into a white-hot bastion of painful, towel-whipping mastery.
17 April 2015: Bright Desire has won an Honorable Website award at the 2015 Feminist Porn Awards!
Also, "Instructed", my film collaboration with Pandora Blake, won Best BDSM Scene!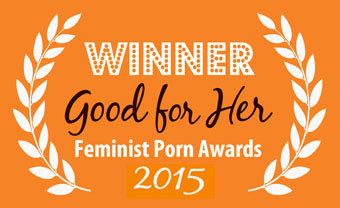 17 April 2015: Exclusive video: Chase Interview
16 April 2015: My first feature film The Fantasy Project is now available in the new Video On Demand section.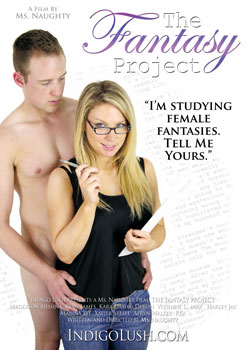 8 April 2015: Exclusive Video – Chase: Shadows

Chase sensually strips off, his form revealed only in the shadows on the frosted glass door. He then settles in for some self-pleasure. His voiceover reflects an encounter in the shadows with a woman who was his light in the darkness.
27 March 2015: Kim and Jay Interview
23 March 2015: Bright Desire has been nominated for a 2015 Feminist Porn Award in the Best Website Category!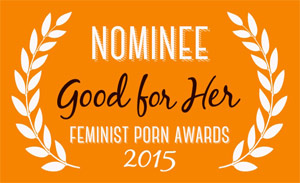 Director Ms. Naughty also received nominations for: The Fantasy Project, Tease, Ryan James: Single Handed and Instructed. All of which are available at Bright Desire.
20 March 2015: Exclusive Video – Kim and Jay: 24/7 (Part 2)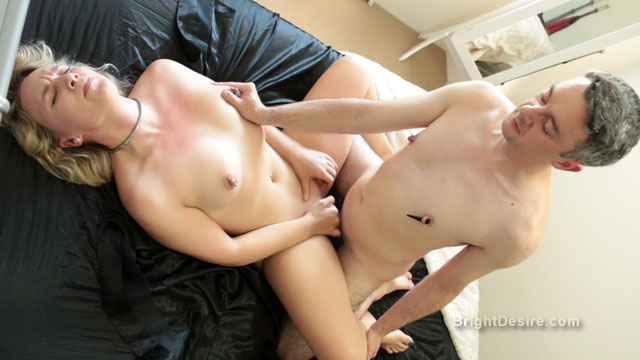 13 March 2015: Exclusive Video – Kim and Jay: 24/7 (Part 1)
Kim and Jay are a real-life couple who have a 24/7 consensual Dominant/submissive (D/s) relationship. This means that in their personal lives, Jay makes decisions for Kim and she does her best to please him. For Kim, relinquishing control is a way of relaxing while Jay enjoys exerting that control. Her submission extends to their sex life and they particularly enjoy impact play together – this involves spanking, paddling and caning. After a session of play they typically enjoy sex together.
In the first part of their scene, Kim and Jay settle in for some impact play. Kim is handcuffed to the bed. They start out with relatively gentle skin-on-skin spanking followed by a number of different paddles. They finish with some increasingly intense caning.
This is what a real-life "Fifty Shades" relationship actually looks like. It doesn't have dungeons but it does have a lot of trust, respect and love.
6 March 2015: Exclusive Video – Summer and Adria interview
1 March 2015: Tease wins an Honorable Mention at Cinekink New York Film Festival!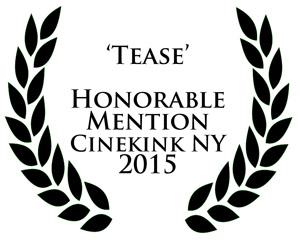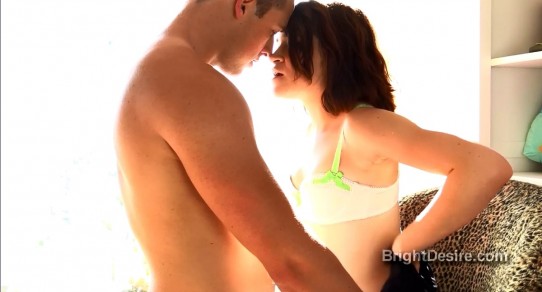 27 February 2015: Exclusive Video – Taste (Part 3)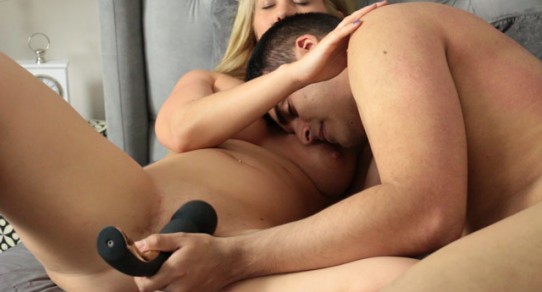 Summer and Adria settle in for a bit of intimate, missionary fucking and Adria comes quietly. Then Summer breaks out one of her favourite toys and enjoys her own orgasm while cuddling Adria. This is a relaxed conclusion to their femdom anal play session.
20 February 2015: Exclusive Video – Taste (Part 2)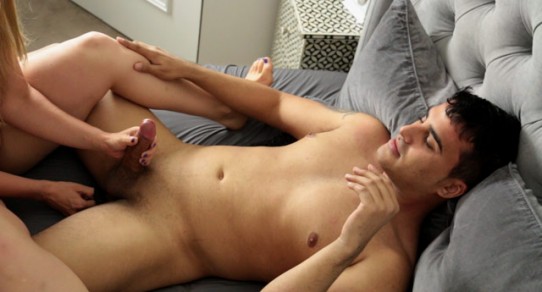 After their playful tasting session in the lounge, Summer and Adria move to the bedroom for some mutual pleasure, though Adria remains the focus. After a little oral sex, it's time for him to submit again. Summer brings out the anal toys…
This is the first time Bright Desire has featured straight male anal play, a much-ignored erotic practice in regular porn.
14 February 2015: Exclusive Video – Taste (Part 1)

Summer Knight works in the kitchen to prepare a sumptuous feast for her lover Adria. She takes him on a journey of the senses, arousing him through taste and touch, in this mildly kinky real-life-couple scene. This film features a slow buildup of male pleasure and careful, playful female domination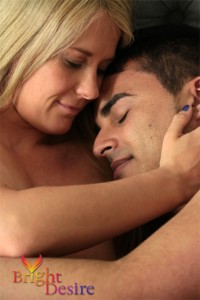 30 January 2015: Exclusive Short Film: – Perversion for (Feminist Fun) and Profit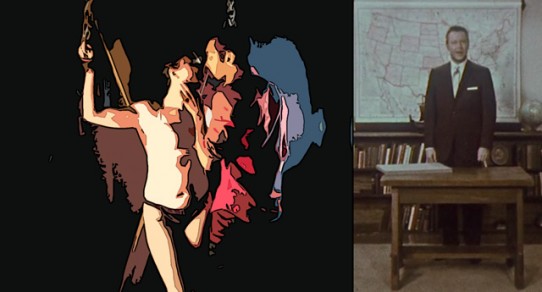 Outstanding news reporter George Putnam leads us into a filthy world of sexual perversion and moral decay that could see the end of civilization itself. Watch and be suitably mortified by the sort of depraved and downright arousing feminist porn that is leading our young people to believe that sex is fun and homosexuality and BDSM is normal.
23 January 2015: Exclusive scene: Ryan Solo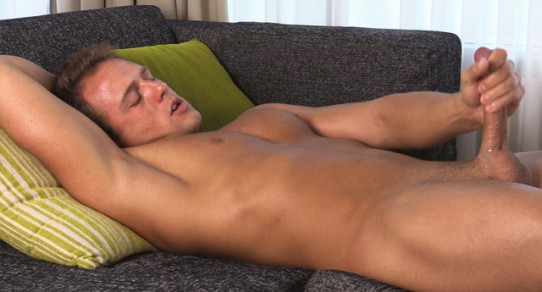 This is the extended version of Ryan's solo masturbation scene, shot mostly in real time. It also features his lovely voiceover, in which he thinks about what he most enjoys when having sex – teasing, going down, connecting with his partner.
16 January 2015: Exclusive short film – Ryan James: Single Handed
A beautiful, sensual and evocative portrait of one of our favourite adult stars, Ryan James. Here he strips off and strokes his cock, first inside his pants and then fully naked. His orgasm is captured in full slow motion glory.
2 January 2015: Exclusive video – Fiona and Vincent Interview

Click here to see updates from 2016
Click here to see updates from 2014
Click here to see older updates from 2013