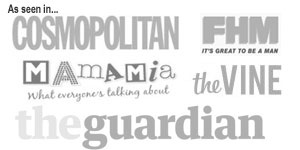 Bright Desire has been regularly mentioned on media articles. Here's some of them:
Where to find the best porn for you on the web – Refinery29, 29 January 2018
The best six sites to watch ethical, fair trade porn – The Daily Dot, 16 December 2017
"A subscription to the feminist porn site Bright Desire, for example, unlocks sex-positive videos of actual couples getting it on in their kitchens, friends with benefits enthusiastically executing acrobatic "bedsports," and realistic orgy scenes."
Fuck the patriarchy – Fulcrum, 27 November 2017
Why you should pay for porn – News.com.au, 9 September 2017
What it really means when women watch porn – YourTango, 12 April 2017
10 porn sites for women that you'll really, really enjoy – Glamour, 27 June 2017
Can porn be feminist? These female directors say yes – USAToday, 6 June 2017
Ms. Naughty creates erotica that is "smart, sensual" and "fun" for her site Bright Desire, which highlights intimacy between partners and doesn't use derogatory terms in video descriptions.
5 sex-positive, female-friendly porn sites – EcoSalon, 3 May 2017
Ethical porn: does it exist and who makes it? – ABC Australia, 21 December 2016
How to watch porn in an ethical way – Metro, 19 December 2016
The best places to find porn for women online – Huffington Post, 7 December 2016
"Bright Desire is run by a filmmaker and web-mistress who goes by "Ms. Naughty," and its videos aim to be intimate, artistic and positive… Bright Desire wants to do porn ethically — which is to say, pay performers well and treat them with respect. And those are certainly things we can get on board with."
Porn is made for men, let's make feminist porn popular – Varsity Online, 3 November 2016
How to stop imitating porn and performing during sex – Bustle, 16 March 2016
How to find ethical porn – Deadspin, 14 December 2015
"These aren't big budget productions, but it's so refreshing to hear couples giggling and see them exchange shy looks. They also have a voice-over series for the aurally-inclined, and erotic fiction for the sexy book nerds out there."
Where can I find porn for women? – The Debrief, 6 November 2015
Can porn enhance a couple's sex life? – Alternet, 9 September 2015
Feminist Porn: putting female desire into the picture – Irish Times, 18 June 2015
6 empowering things feminist pornographers can teach us about sex – Mic.com, 14 May 2015
The best feminist porn directors to check out if you like your smut served with a side of ethics and empowerment – Bustle, 19 May 2015
How to have a healthy relationship with porn – Lifehacker, 23 April 2015
Is there such a thing as ethical porn? – The Guardian, 1 November 2014
In Toronto with the world's feminist pornographers – BBC News, 9 May 2014
Her Pleasure – Ms. Magazine, 14 January 2014
"I make feminist porn" – Mamamia, 28 July 2013
Academic Mentions of Bright Desire and/or Ms. Naughty
The Feminist Porn Book edited by Tristan Taormino et al, 2013 (entire chapter by Ms. Naughty)
Coming Out Like A Porn Star edited by Jiz Lee, 2015 (entire chapter by Ms. Naughty)
Review: The Feminist Porn Conference 2014, Porn Studies Journal. 7 September 2015, (review by Ms. Naughty)
Watching Porn and Other Confessions of an Adult Entertainment Journalist by Lynsey G, 2017
Porn Rhetorics: Teasing Apart the Differences Between Mainstream and Feminist Pornography by Allega W. Smith, 2015
Particpatory Porn Culture: Feminist positions and oppositions in the internet pornosphere by Allegra W. Smith, published in Sex in the Digital Age, edited by Paul G Nixon, Isabel K. Düsterhöft, 2017
The Pornography Industry: What Everyone Needs to Know by Shira Tarrant, 2016
The Afterglow of Women's Pornography in Post-Digital China by K. Jacobs, 2015
Pornography: Structures, Agency and Performance by Rebecca Sullivan and Alan McKee, 2015
'Labiaplasty and Pornography: A Preliminary Investigation', by Camille Nurka +, Porn Studies, 2015
Sex and the Virtual Suburbs: The pornosphere and community standards by Alan McKee, Brian McNair and Anne-Francis Watson, published in Sub(Urban) Sexscapes: Geographies and Regulation of the Sex Industry, edited by Paul J. Maginn and Christine Steinmetz, 2014
After Pornified: How Women Are Transforming Pornography and Why It Really Matters by Anne Sabo, 2012
Naked on the Internet: Hookups, Downloads and Cashing In On Internet Sexploration by Audacia Ray, 2007
Snatched: Sex and Censorship in Australia by Helen Vnuk, 2003