Welcome to Bright Desire!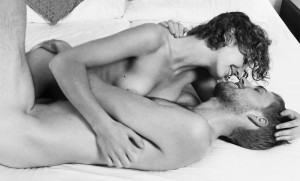 This site offers a vibrant and different kind of porn – what I call smart porn. The aim is to move beyond the old cliches, boundaries and negativity of standard, old-style pornography and to offer something fresh, inclusive and intelligent.
Bright Desire is a celebration of sex. It's a deliberate attempt to show all the good stuff that we love about sex – intimacy, laughter, connection and real pleasure. It's also about enhancing and exploring fantasy – because our brains are just as important to our sex lives as our genitals. I make "thinking porn" – erotic material that engages your mind as well as your heart and your libido. I also want to create "grateful porn", sexy videos that inspire joy and happiness.
Bright Desire was launched in December 2012. It contains all the short films and erotic scenes I have shot over the last eleven years.
Inside you'll find explicit scenes featuring real-life couples having sex. These scenes are completely unlike most porn scenes and feature plenty of passion, giggles and really good fucking. Our couples do whatever makes them feel good. This includes any sex toys, positions or sex acts that work for them. The result is a more realistic scene that is more pleasurable for the performers.
The site also includes my "solo voiceover" series which features male and female masturbation scenes accompanied by an erotic voiceover. This technique gives us a glimpse into the fantasy lives of the performers and really enhances the erotic atmosphere of the scene.
On top of that, I've included my short films, works that don't really follow the rules for standard porn scenes. They can be experimental, tell a story or or they may just present interesting visuals. Over a dozen of my short films have won awards at international film festivals.
Bright Desire also features my feature film The Fantasy Project, available in full inside the member's area. This film was nominated for a Feminist Porn Award in 2015.
I usually shoot with two cameras and edit my scenes so they are visually interesting and diverse. My films are holistic: they show more than just the genitals. You'll see facial expressions, sweat, shudders, body movement and all of the little things that porn so often ignores. I also try to shine a little light on the personality of my performers; they're all interesting people with their own sexual stories to tell.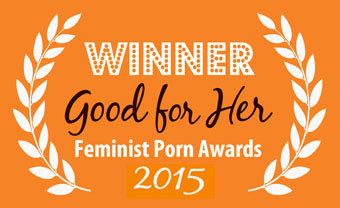 Bright Desire sets aside many of the "rules" associated with porn sites. For a start, there is content on this site that could be categorized as "straight" and other content that could be called "gay". Most porn maintains a rigid dividing line between those two "genres" – the assumption is that a male audience does not want to see other males, unless they are gay. Bright Desire doesn't do that. Fantasies can be diverse and they can also be entirely separate from real life. What you choose to fantasize about is entirely up to you; it doesn't define who you are or how you live your life.
The content on this site inclines more towards heterosexual sex from a female point of view. This is due to my background making "porn for women" and feminist porn. Nonetheless, I've also broadened my scope to include queer, non-heternormative scenes because I want to showcase how beautiful and interesting all sex can be, no matter who is doing it, or how.
The site embraces the philosophy of feminist and ethical porn. I believe in creating positive porn and respecting my performers, giving them agency and involving them in the production of my films. They are all wonderful people and I aim to give you a glimpse of their personalities via interviews and behind-the-scenes information. You can read my statement of ethics here.
Bright Desire doesn't just feature videos. I have also included my own erotic fiction, polemic writing and adult film reviews.
I've also created a section called "Under The Bed". It's extra content that I have collected over the past 20 years while making adult websites. The photos and movies included are ones I've personally found arousing or amusing – it's the equivalent my own personal under-the-bed porn collection. Many of them feature laughter, playful sex or kink. Some of the images and videos are old but I was more interested in what they depicted than their age; they don't stick to the usual porn rules and do a good job of portraying particular fantasies in a respectful, artistic or arousing manner.
Bright Desire is primarily a membership site. When you join, you get access to all the scenes and bonus content plus updated videos and stories – much more than you get on your average porn DVD.
A Selection of Awards And Nominations
Awards
"It's Complicated", Honorable Mention, SECS Fest Seattle, 2020
"I Am Lucie Bee", Honorable Mention, Cinekink NY, 2019
"Linger " Best Orgasm and Most Likely To Make You Want To Fuck at EBX Briefs 2019
"Oral Exam" Sexiest International Short Film at Toronto International Porn Festival 2018
"Trinity" Best Orgasm and Most Likely To Make You Want To Fuck at EBX Briefs 2017
"See Me" Best Sex Positive Film at SECS Fest 2017
"See Me" Best Political Film at Pop Porn Brazil 2017
"Immersed" Best Artistic Film at Pop Porn Brazil 2017
"Hand Jobs" Best Cinematography, East Bay Express Briefs, 2016
Bright Desire, Honoured Website, Feminist Porn Awards, 2015
"Instructed", Best BDSM Scene, Feminist Porn Awards, 2015
"Tease", Honorable Mention, Cinekink NY, 2015
"Dear Jiz", Best Experimental Short, Cinekink NY, 2014
"Something Better", Honorarable Mention, Feminist Porn Awards, 2014
"Connections", Honorarable Mention, Feminist Porn Awards, 2013
"That's What I Like", Petra Joy Award For Best New Filmmaker, 2009
Nominations
Female Directed Website of the Year – XBiz Awards 2020
Best Specialty Website – Female Directed, XBiz Awards 2018
Best Website – For Women, XBiz Awards 2017
Best Alternative Website, AVN Awards, 2015, 2016
Best Alternative Website, XBiz Awards 2015
Best Website – For Women, XBiz Awards 2016
Various Feminist Porn Award Nominations 2010-2015
Festival Screenings (not a full list – there's been over 100 screenings worldwide)

Berlin Porn Film Festival 2009/11/12/13/15/16/17/18/19
Cinekink New York 2010/11/12/13/14/16/17/18/19
East Bay Briefs 2014/15/16/17/18/19
Glasgow Short Film Festival 2017
Paris International Lesbian & Feminist Film Festival 2018
London Porn Film Festival 2017/18/19
Beanflicks Porn Festival 2018/2020
Porny Days Zurich 2017
Toronto International Porn Festival 2017/18
Seattle Erotic Cinema Society (SECS) Festival 2017/18/20
Seattle Transgender Film Festival 2017
Pop Porn Festival Brazil 2016/17
Failed Films SF 2016/17
What The Fuck Festival Paris 2016/18
Muestra Marrana, Mexico 2015
Xposed International Film Festival Berlin 2015
Holy Fuck Film Festival Amsterdam 2015
Le Fete Du Slip Switzerland 2015/18
British Fetish Film Festival 2015
Pornotopia Albuquerque 2015
Tilde Transgender Film Festival 2014
Perv Queerotic Film Festival Sydney 2013
Good Vibes Quickies 2012
Painted Lips and Lolly Licks Festival 2011/14
Hard Liquor and Porn Festival 2012
Sexy International Film Festival Melbourne, Paris and Los Angeles 2009/10,
About Ms Naughty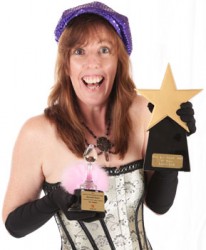 I'm Ms Naughty. I'm a writer, filmmaker, editor and webmistress. I make porn.
I used to be a librarian and a freelance journalist. In the late 90s and 00s I wrote for Australian Women's Forum, which was a Playgirl-type magazine. I've been making and curating porn online since 2000. In 2003 I jointly started the site For The Girls – an adult website for straight women. It's still going though I'm not actively involved in the site. In 2004 I started my link site and blog at Ms Naughty. There I started writing about women's erotica/porn for women and charted the growth of that genre.
I took up filmmaking in 2008 and shot my first erotic short film, That's What I Like, in 2009. It went on to win the Petra Joy Award that year. I've been creating films and editing them myself since then. They've screened at numerous film festivals and I've won a few awards including Best Experimental Short at Cinekink 2014, Best BDSM Scene at The Feminist Porn Awards 2015 and a couple of FPA Honorable Mentions in 2013 and 2014. Actually a whole bunch of my films have been nominated for Feminist Porn Awards over the years. Bright Desire is where you can find all of them (and it won Best Website at the FPAs in 2015).
In 2014 I made my first feature film The Fantasy Project (it's in the member's area).
I write erotic fiction. I've had stories published in Best Women's Erotica 2008 and 2012 as well as my own online publishing ventures.

I also write articles and speak about feminist porn. I have a chapter in The Feminist Porn Book and also Jiz Lee's Coming Out Like a Porn Star. I've written for the Porn Studies academic journal. In 2013 and 2014 I gave presentations at the Feminist Porn Conference in Toronto. I've also spoken on various panels discussing porn and women's sexuality both in Australia and overseas. My work has been mentioned in numerous academic works (list here).
In my spare time I cycle, read books, drink too much wine and travel. I don't have any children but I do have a wonderful husband who helps me make porn and run this site.
Bright Desire is my home on the internet.
——–
Mini Articles
Couples Porn and Bright Desire
Real Life Couples Cream Pies and Internal Ejaculation