Ethical Porn Production and Consent At Bright Desire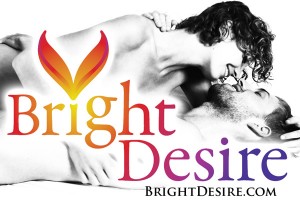 Bright Desire is committed to the ethical production of sexually explicit material. This means that we genuinely care about creating a safe, friendly working environment for our performers. We also want to make that safety and consent explicit to our audience.
The films created at Bright Desire are shot by myself and my partner Luke. There are typically no other crew on set. We follow these rules when organizing and shooting a scene.
Indigo Lush/Bright Desire Ethics and Production Rules
We pay up front. Performers are given their money before the scene starts. Payment is not dependent on what sex acts they do. They are paid holistically for their attendance, their time and their labour.
Pay is negotiated beforehand via phone or email, not on the day. If a performer has a pre-existing set pay rate we take this into account during this negotiation and do our best to accommodate those rates according to our budget.
Performers may decide what safe sex precautions they will use on set – either condoms/barriers, a recent test or fluid bonding. We provide safe sex supplies but performers may bring their own if they prefer.
Performers have the option to cancel a planned scene (preferably with advance warning to help with organization, cancelling locations etc).
Consent is vital on our set. What happens on set is usually decided beforehand in the weeks/days leading up to the scene. Performers negotiate with each other what they will and will not do and those boundaries are respected.
Performers are able to call a halt to a scene at any time and the cameras will be turned off. If necessary we will leave the room to allow space.
We will intervene if we feel that a performer is uncomfortable or unhappy with a scene.
If an idea occurs on the day (and the suggestion can either be ours or the performer's), we will discuss it before filming starts and the performer has immediate right of veto with no pressure. We never demand a performer do something that hasn't been negotiated beforehand or threaten to withhold pay.
We do our best to collaborate with performers and take their preferences and ideas into account when planning and filming a scene.
We prefer a sober set. If you need alcohol or drugs to perform, it may be better for you not to be in porn.
We do our best to offer a clean, safe and comfortable set wherever possible. We provide water and refreshments for performers.
We want performers who are comfortable with their decision to perform in adult film. If they have any hesitations about their decision, we would rather they change their mind and not do the work at all. We do not work with people who don't want to show their face, partly because facial expressions are vital our style of porn and partly because it indicates a hesitation to commit fully to working in porn.
We do our best to treat performers with courtesy and respect on set. Once the cameras are turned off, we make sure to give performers privacy and space to shower and dress.
We do not engage in sexual harassment or flirtation with our performers. We are there to work together and we strive to be professional at all times.
We do our best to be aware of power differences when discussing a scene or filming it. We acknowledge a duty of care to those who are put in a position of less power in the context of the scene.
Performers sign a waiver giving all rights to the footage to Indigo Lush. Decisions regarding filming, editing and marketing remain with the director and Indigo Lush.
Performers must sign a 2257 age verification form to prove they are over 18 and produce valid government ID as proof.
We prefer to work with performers who are over 21 however this is not a hard and fast rule. If a younger performer (18+) is experienced or can show a good understanding of the work and what's involved, we will work with them
When it comes to depicting enthusiastic consent and respect for performers in our porn, Bright Desire does the following:
Every scene is accompanied by an interview, usually filmed after the scene although we have also done pre-scene interviews. Performers are given an opportunity to discuss themselves and issues they find important and we encourage them to talk about their experience of the scene. Their pay does not depend on what they say in this. They are entitled to express negative views if they wish.
If a scene features a plot or story, we will do our best to incorporate a moment of deliberate consent-giving, especially by the female performer in a boy-girl scene, or if there is an element of kink or BDSM play involved.
We prioritise respect in the presentation of performers in the finished product. They are never depicted in a negative or degrading way. We believe the work they do is worthy of honour and respect and present it as such. Their personality, their sexual identity and their agency as performers is made available to the audience.
We do not fetishize a performer's age, ethnicity, sexual orientation, gender or body type.
When a scene has been created in collaboration with a performer, the credits reflect this.
Performers are encouraged to give feedback on ways the scene could have been better or ways that we could have lifted our game.
Bright Desire is working to make the production process more apparent and transparent to the audience.
Each scene features a director's commentary which discusses the background of the scene, any issues or important incidents that arose along with amusing anecdotes if any. This commentary is, of course, only one person's version of the scene. Where possible, the site reproduces or links to performer's blog posts or commentary of their experience. In the future, Bright Desire will be offering every performer the opportunity to give their own commentary.
Behind the scenes footage, photos and blooper reels.
Ongoing discussion of the ethics of porn via columns, documentaries and on social media.
These rules and ethics have evolved over the last three years. I acknowledge that this is an ongoing process and we have made mistakes in the past. I am a self-taught filmmaker and porn creator and there is no official guide for making good, ethical porn. I have done my best to follow my instincts and always try to be fair, respectful and friendly to performers. I don't want to make porn if it involves hurting people.
As part of this learning process, I will continue to look at ways to improve how I work and to ensure I am being ethical when making porn. Safety and consent must be at the forefront of what I do, along with my concerns about presenting sex and sex workers in a positive and respectful way. I will also work with the wider porn community to ensure that this industry becomes a better place for performers to work safely and happily.
– Ms. Naughty
Director and Owner, Bright Desire
5 December 2015