Length: 55 min
Shot in HD
Director: Ms. Naughty
Friends Kali and Parker take a risk and decide to make out for the first time. An incredibly sensual and slow encounter unfolds in which every breath and every moment is savoured.
"Linger" is an erotic experiment focused on taking it slow. Performers Kali and Parker's brief was to draw out the moment and to take their time with touch and feeling, building the sexual tension as they went along. Parker reveled in being given the opportunity to take his time and to tease while Kali was near to exploding well before the end. This is not your usual fast-paced, intercourse-driven porn scene. It's one that gives priority to all kinds of sexual touch, being in the moment and to capturing intense connection between the performers. The scene also features ongoing verbal consent as an important and erotic part of good sex.
"This may well be the most sensual scene I've ever filmed." – Ms Naughty, director.
Starring Parker Marx and Kali Sudhra in their first scene together.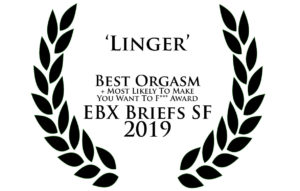 Winner: Best Orgasm Award and Most Likely To Make You Want To Fuck Award – East Bay Express Briefs Festival February 2019
Festival Screenings:
East Bay Express Briefs February 2019
Cinekink New York March 2019
Seattle Erotic Cinema Society Festival September 2019
You can see the full extended scene inside the member's area of Bright Desire.
Plus director's commentary, an interview with Kali and Parker and more screenshots and photos.


Screenshots
You can see the full scene inside the member's area of Bright Desire.