Length: 7:14 (Festival Version)
Length: 26:30min (Full Scene)
Shot in HD
Dion De Rossi and Rooster X-Ray are supposed to be studying for tomorrow's exam but they're both horny. Dion has a solution but things don't work out quite as planned. If nothing else, Roo totally masters the oral examination.
Shot in October 2017 in Berlin, this film focuses on slow buildups and teasing, rather than just the sex. It also continues Bright Desire's quest to show female orgasms via cunnilingus, which we just don't get enough of.
Winner, Sexiest International Film, Toronto International Porn Festival 2018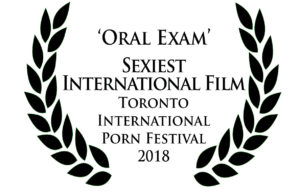 You can see the the short film plus the extended version of the scene in the Member's Area at Bright Desire.

Plus director's commentary, more screenshots and photos.

Screenshots
You can see the full scene inside the member's area of Bright Desire.