Length: 10:02min
Shot in SD
Directed by: Ms. Naughty
"That's What I Like" – one woman's sexual preferences in words and in bed.
Mia discusses what turns her on, how she gets off in bed and what she likes most about her partner. Then we see her fantasies and preferences played out on screen. This is heterosexual sex without the usual porn cliches. The camera gives equal time to both performers and ensures that female pleasure is portrayed. It features real orgasms by both performers.
That's What I Like is the first film I ever made, shot in February 2009. It was quite a learning curve but I'm still really happy with the result. The film won the Petra Joy Award for first time female erotic filmmakers in 2009.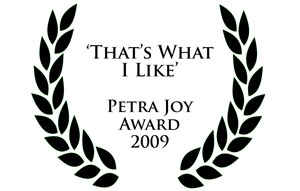 Winner – Petra Joy Award 2009
Nominated for a Feminist Porn Award 2009.
Festival Selections
Paris Sexy International Film Festival 2010
Cinekink New York 2010
Melbourne Sexy International Film Festival 2009
Berlin Porn Film Festival 2009
You can see the full short film inside the member's area of Bright Desire.
Plus director's commentary, an interview with Mia and Andy, a behind-the-scenes shower video and more screenshots and photos.


Sample Screenshots
You can see the full scene inside the member's area of Bright Desire.