At Bright Desire, we've always focused on making real life couples porn. That's because we think it makes for amazing viewing. Real life couples already know each other's wants and needs. They know how to please each other, how to get each other off and how to have fun in bed together. It means that these porn scenes look a lot like the sex you and I have at home. And that's still a rare thing in porn.
When filming real life couples porn, we work hard to make sure that the performers are totally comfortable. There's only two people on set, quietly and unobtrusively working the cameras. There's no direction. The scenes are discussed beforehand so everybody is on board and boundaries are set. But once the cameras are rolling, it's up to the real life couple to do whatever they want to do. They can kiss, enjoy oral, fuck, change positions, do whatever works for them in the moment. And they can stop at any time. The end result is an authentic sex scene that captures the intimacy and connection that real life couples share.
Mainstream porn often has an "amateur" category that features real life couples. Usually this footage is self-shot or the quality isn't that great. At Bright Desire, we wanted to make sure we brought cinematic values to our real life couples porn. There's good lighting, comfortable sets and two-camera angles. The scenes are carefully edited to take out bad shots, though most scenes are in real time. And we've made sure to capture all the fun parts of sex. Amid the amazing fucking you'll also see laughter and clumsy moments. Because we know these are part of what makes good sex special.
A Selection of Real Life Couples Porn At Bright Desire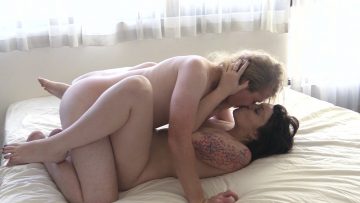 Real life couple Mac and Bee appear in their second-ever porn scene. They were both delightfully enthusiastic and the playfulness an...
There's Lots More To See At Bright Desire
You'll love our huge selection of real life couples porn! Real connection, real intimacy, real fun.