Length: 15:02 (Festival Version)
Length: 37:54
Shot in HD
Berlin, 2015: Two ex-partners and porn performers meet up again for a playful romp in the intermittent sunshine of a late Autumn morning. Transman KAy Garnellen and legendary sex worker Sadie Lune put their differences aside and just enjoy giving each other pleasure.
What does sex between exes look like? And what does it look like if they're being paid to be filmed? This documentary explores the blurry line between performance and reality and the complicated interaction between sex work and relationships. It intercuts an interview with the performers with explicit footage of their scene.
Aside from the short film, a full extended version of the scene is available featuring more orgasms and play.
This is Bright Desire's first exclusive scene featuring a trans performer. In the extended interview, KAy talks about transitioning and his experiences of being a trans man.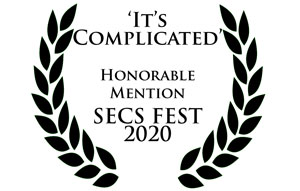 San Francisco PornFilmFestival 2021
It's Complicated official selection
November 2021
Cinekink NY 2020
It's Complicated official selection
December 2020
SECS Fest Seattle 2020
It's Complicated official selection – Honorable Mention Award
October 2020
Honorable Mention Award – It's Complicated
You can see the the short film plus the extended scene in the member's area at Bright Desire. Plus director's commentary, screenshots and behind-the-scenes footage.


Screenshots
You can see the full scene inside the member's area of Bright Desire.